Festival Events
Gold Coast Swim Week includes daily sessions for smaller groups, where swimmers can learn from elite coaches at pool clinics and join in with local swim squads at multiple beaches along the Gold Coast.
Below is a brief outline of each session / clinic.
.
.
Masterclass Clinic
We are very proud to bring some of Australia's best swimmers and coaches together for our Masterclass clinics. Featuring Aussie swimming legend: Michael Klim (Olympic Gold Medallist, World Champion), Aussie Sprint King: Adam Pine (National and Commonwealth Record Holder), and Australian swimming super coach: Michael Bohl (Olympic Swim Coach).
These clinics will be held on the May 07 at the Gold Coast Coast Aquatic Center. The clinic will run for 2 and a half hours, where young swimmers will have the opportunity to learn for our country's best. Our clinics are for kids that can swim 50m of Freestyle, Backstroke and Breaststroke. We ensure that the clinic is tailored to each level and we group kids into lanes according to their abilities. This is a unique opportunity to learn from some of the best swimmers and coaches in the world and take your swimming skills to the next level.
LOCATION: Gold Coast Aquatic Center
COST: $150 per person
REGISTER: https://www.swimbetterhq.com/gold-coast-master-class/
.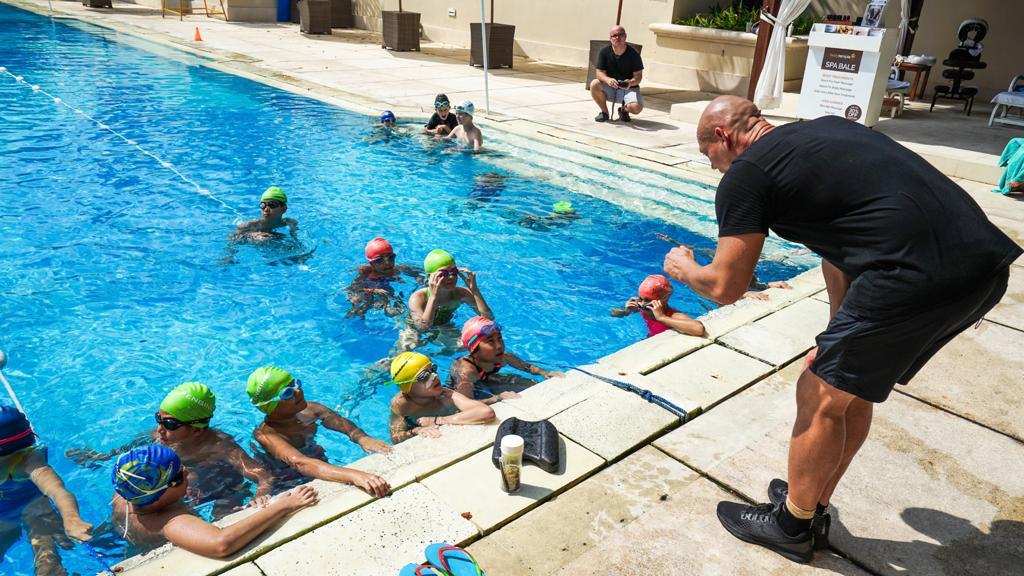 .
Ready to Race Session (PC&CO)
These sessions are an excellent opportunity to get expert coaching, tips & tricks in the same location as the Cooly Classic Ocean Swim on Sunday April 30.
Your host, Phil Clayton from PC&CO will discuss your warm-up, how to read conditions and use them to your advantage, race entry, race tactics, sighting and most importantly, he will be available to answer any questions you might have before race day.
WHERE: Tweed Heads Coolangatta Surf Life Saving Club
COST: $25 per session (excl GST + processing fee)
.
Swim Greenmount (PC&CO)
The group will walk to Rainbow Bay Surf Club and swim from Snapper Rocks to Coolangatta Beach (1.5km) with Phil offering warm-up tips, drills, sighting and pack swimming plus a long and easy swim to finish.
If you want to wear thongs you will need to organise someone to bring them back from the beach for you, otherwise, the group happily walked barefoot last year. Water Safety will be provided for this swim.
WHEN: Fri Apr 28 & Sat Apr 29, 8:00am
WHERE: Tweed Heads Coolangatta Surf Life Saving Club
COST: $25 per session (excl GST + processing fee)
.
Social Surf Swim (GCOWS)
Hosted by the Gold Coast Open Water Swimming Club, this a regular surf swim at Broadbeach for all abilities.
The average distance for the main group is approx 2kms, with swims of around 500m at a time – this is the rough distance between lifeguard towers. The advanced group will swim approx 3-6kms.
.
Swim Squad (PC&CO)
These regular weekly sessions are designed for people looking to develop the essential skills and knowledge of ocean swimming while increasing their fitness.
Although many of our participants are new to ocean swimming, we also have a growing number of confident swimmers who've experienced improvements from the focused drills with their stroke, breathing, and overall swimming ability.
Each session is limited to 20 swimmers allowing for more guidance and feedback opportunities from the coach.
COST: $20 per session
LOCATION: Tallebudgera Creek
.
Saltwater Swimmers (PC&CO + Burleigh Swim Run)
Weekly community ocean swimming sessions are open to all competent swimming enthusiasts from lifesaving, swimming, triathlon clubs and the community (must be able to swim 200m in 5 mins and tread water for 5 mins).
Sessions cater for mixed abilities, ages and genders with ability groups per session. The focus is open water swimming confidence, fitness, surf skills and surf education.
WHERE: Meet on the sand in front of Neptunes Life Saving Club at 5.15am for a 5.30am swim.
COST: $15 per session (on the day)