Our Charity Partner – Wishlist
We're proud to partner with Wishlist for the 2020 Mooloolaba Swim Festival – a Sunshine Coast-based not-for-profit organisation dedicated to fundraising for the needs of our local health service.
Every swimmer who fundraises more than $200 will receive a free entry into an event of their choice on either March 7 or 8.
Or, you can make a small donation through the online entry form.
SIGN UP to start your own fundraising page.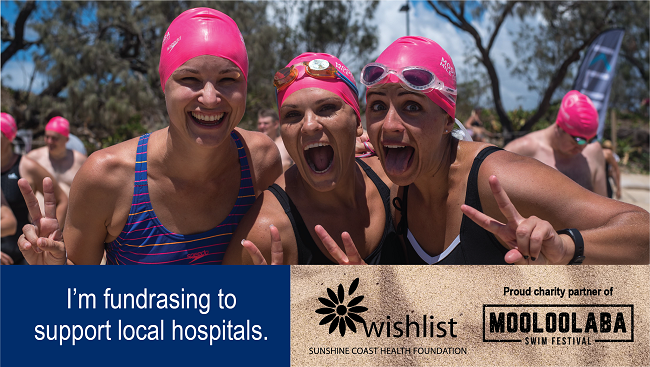 .
Wishlist Sunshine Coast
Annually, Wishlist pledges more than $1 million towards vital medical equipment, hospital accommodation, therapy services and staff education. They're proud to direct 100% of funds raised to help local patients and their families when they need it most.
Wishlist is committed to making the hospital experience better for patients and families. They fund important therapy services for patients young and old including the Clown Doctors distraction therapy service for the Coast's littlest patients, Delta Dogs pet therapy service, music therapy and more.
Recently Wishlist and the Sunshine Coast community joined forces to build The House The Coast Built – an affordable accommodation facility near the Sunshine Coast University Hospital for families that need to be close to their critically-ill loved ones (opening in early 2020). The house will compliment Wishlist's existing accommodation facility next to Nambour Hospital, Reed House. This 20-bed facility has provided hospital accommodation to more than 16,000 patients and families since opening its door ten years ago.
Wishlist's other major milestones include funding the Child Development Service now located at Caloundra Hospital and $1.7 million for the original cancer care centre at Nambour Hospital. The dedicated health foundation has also directed more than $1.5 million towards coast-based research projects to benefit families locally and globally.
Wishlist acts with integrity, compassion and respect as a locally-focused, professional and innovative Sunshine Coast charity.